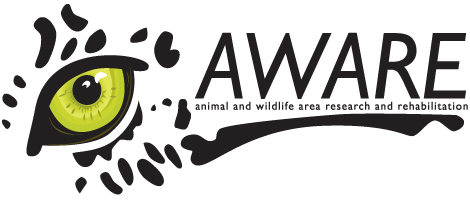 Buffalo Disease Testing
AWARE Trust, Zimbabwe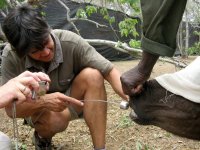 Participate in conservation efforts to test buffalo in Zimbabwe for Bovine Tuberculosis (BTB), Foot and Mouth Disease (FMD) and other diseases.
Project Locations:
i. Parks and Wildlife Estates, focusing on Gonarezhou National Park (GNP - within the Great Limpopo Trans Frontier Conservation Area or GLTFCA) and Zambezi National Park (ZNP at Victoria Falls – within the Kavango-Zambezi or KAZA - TFCA), and Mana Pools National Park in the Mana-Lower Zambezi TFCA.
ii. Private reserves and conservancies throughout the country
Project Age Limit: Minimum 18 years, Maximum age dependent on participant's health. This is physical work and a certain degree of fitness is required.
Project Highlights:
Visit stunning "Big Five" wildlife areas throughout Zimbabwe.
Wild African buffalo are notoriously dangerous animals. Experience the adrenaline of being part of a team that mass captures them (in a boma) or immobilises them individually from a helicopter for disease testing purposes.
Learn how to process blood samples for disease testing purposes.
Further Information on AWARE's buffalo disease testing project:
BTB, caused by Mycobacterium bovis, is a disease exotic to the African continent and remains a focal point of AWARE's disease surveillance programme because of the devastating threat it poses to Zimbabwean wildlife. BTB was eradicated from Zimbabwe in 1979, after decades of a national test and slaughter policy in cattle. It is well documented that in the 1990s BTB entered the buffalo population in southern Kruger National Park (KNP) in South Africa, and has since been spreading northwards towards the border with Zimbabwe.
In 2004 to 2006 in a Peace Parks Foundation (PPF) funded project, Drs Dutlow and Marabini BTB tested over 2 000 cattle in the Sengwe Corridor between KNP and GNP in Zimbabwe using the comparative intra-dermal tuberculin test. No positive BTB reactors were found. The cattle population is, however, known to stray into the north of KNP for grazing since the northern Kruger fence was washed away in floods in 2001. It has been hypothesised that the cattle and buffalo populations come into contact with each other in the region, and in fact this is the subject of an ongoing CIRAD research project.
In October 2008 in a CIRAD project together with the Wildlife Veterinary Unit (WVU) of Zimbabwe and AWARE personnel, BTB was diagnosed in four buffalo (out of thirty eight tested) in the southern section of GNP using the gamma interferon test. This was confirmed in February 2009 by the slaughter of two of the buffalo and positive culture of M. bovis, which was identified as the same strain of BTB that exists in KNP. What remains unclear is whether this disease has been resident in the buffalo population for the last thirty years or whether this is a new colonisation that has occurred from KNP. In September 2010 the WVU tested 49 buffalo in northern GNP and they were found to be negative for BTB, implying the infection in the south is a recent occurrence.
BTB has now been found in 14 different species of animals including kudu, baboons, warthogs, rhino, elephant and lion. It is particularly destructive for lions which die of a chronic wasting disease when infected. It is a zoonosis which means that it is transmissible to man through the drinking of unpasteurised milk or consumption of infected meat. This poses a threat to rural communities living at interfaces with National Parks, especially where cattle stray into Parks for grazing. It is imperative that a prevalence study in buffalo is done in GNP to understand the epidemiology of the disease (i.e., how long the disease has been present and whether other species in the Park are already infected) and whether an intervention at this stage might help halt the progress of the disease. It is also important to get baseline data for BTB and other buffalo diseases (theileriosis, brucellosis, FMD) in other parts of the country to further understand their epidemiology.
FMD is one of the most economically important diseases of cattle in the world today. Buffalo act as a reservoir of FMD for cattle and most Zimbabwean buffalo in National Parks are seropositive for the disease. By Zimbabwean law any buffalo that exist (i.e. on private game farms) outside of National Parks have to be behind a double game fence, or herded by day and kraaled at night. Most of these herds have not been tested in the last ten years since the disruptive land reform programme took place. It is important to re-test such herds to confirm their freedom or not from FMD and other diseases.
Project Typical Schedule:
Orientation Day: An intensive introduction to the buffalo disease testing project will be given in Harare, including familiarisation with all equipment, protocols and safety procedures.
Immobilisation days – mass capture:
Rise at dawn.
Check and double check all equipment. This will include radios, pulse oximeters, oxygen cylinders, water sprayers and kit bags.
Light breakfast.
Locate buffalo herds (this is usually done by aircraft). The buffalo are then driven through funnel shaped boma sheeting into a boma.
Selected buffalo will be darted and as they are immobilised they will be separated from the rest of the herd by vehicles inside the boma.
The animals will be sampled for various diseases.
Once all the sampled buffalo have been antidoted they will be let out of the boma.
A packed lunch will be provided on these days.
Following the samplings, the blood is processed over a 24 hour period, and data is compiled on all the animals.
Immobilisation days – individual capture:
Rise at dawn.
Check and double check all equipment. This will include radios, pulse oximeters, oxygen cylinders, water sprayers and kit bags.
Light breakfast.
Buffalo herds are usually located by rangers who call in the helicopter.
Buffalo are darted (several at a time) from the helicopter by the vet. One the buffalo are down the ground teams are called in to process the buffalo.
The animals are sampled and the antidoted.
Project Accommodation:
This will normally be in National Parks chalet-type accommodation since the blood needs to be processed indoors, but be prepared to camp if necessary. At private conservancies accommodation is normally in a room on the game park.
Project Travel Nearby:
National Parks which contain buffalo are invariably Big 5 areas and rank amongst the most stunning Parks in Africa. The private conservancies are some of Zimbabwe's best kept secrets with very few people having seen them.
Volunteer comments: